My Other band "Moonmen on the Moon, Man" is rising from the dead to play a show at Dead Herring, which will be the last show ever in that venue. – Jim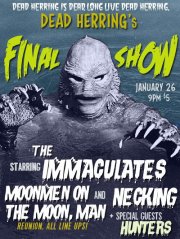 The Last time to party at the Dead Herring!
JUST ANNOUNCED HUNTERS!
http://www.huntershunters.com/
THE IMMACULATES!
http://http://theimmaculates.com/
MOONMEN ON THE MOON, MAN!!!
The Reunion with all Line ups!
http://moonmenonthemoonman.com/
NECKING!!
https://www.facebook.com/necking
Come watch these amazing bands and have a blast.
Ropstyle is going to DJ and you know it's going to be a good time.
$5
NO BYOB